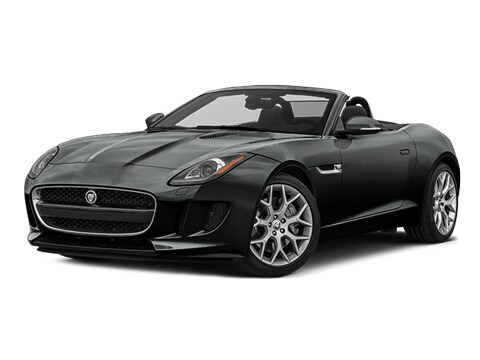 Let the experience awe you. The 2017 Jaguar F-TYPE Coupe and Convertible are just waiting to be driven and be discovered. The F-TYPE is sleek yet muscular and the combination forms a commanding shape.
Its aerodynamic design not only cuts effortlessly through air at high speeds, but also is sculpted by the wind itself. Airflow technology was used to help form the perfect profile, and the deplorable door handles add to the F-TYPE's aerodynamic nature. They retract to flush with the door when not required, which creates an uninterrupted flow along the flanks. Underneath the car, a front splitter manages airflow and in the back, a mobile rear spoiler automatically rises once the car exceeds 60 mph on Convertible models and 70 mph on Coupe models.
Three different roof options allow you to mold your F-TYPE into your perfect coupe. Choose an aluminum roof for the pure and classic sports car look. It's strong, lightweight, and easily compliments every aspect of the F-TYPE body. For a cabin full of light and unprecedented views, select the full-width panoramic glass roof. It features a manually sliding "black-out" blind for further seclusion if necessary. Last but not least, the carbon fiber roof features outer and inner panels bonded together with a weave visible through a deep, lacquered finish. Rest assured, you cannot make a bad decision.
Adding to the F-TYPE experience is Adaptive Front Lighting that gives you better vision when driving in the dark. The advanced system measures vehicle speed and the angle of the steering wheel, swiveling the lamps by up to 14 degrees outward, and up to 7 degrees inward, for improved visibility during cornering. The Intelligent High Beam system also automatically switches between low and high beams as necessary.
As for under the hood of the F-TYPE Coupe, there are four highly advanced engines to choose from - 3.0 liter 340 hp V6, 3.0 liter 380 hp V6, 5.0 liter 550 hp V8, and the new 5.0 liter 575 hp V8. Each features a Roots-type twin-vortex supercharger with both manual and automatic transmissions available. The supercharged engine provides breathtaking power to the 2017 F-TYPE along with instant access to high levels of torque at all speeds.
Drivers get options once again in the transmission selection. Manual and automatic transmissions are available, depending on your driving preference. The manual unit has 6-speeds and is specially designed for the lofty performance requirements of sports car driving, and the QuickShift automatic is simultaneously fast and smooth while keeping the engine in its most effective operating range.
If you like what you hear, give Jaguar Chicago a call. We'll help you customize your coupe to be uniquely you and unlike any other on the Chicago roads. Coupe or convertible, aluminum roof or glass panoramic, we'll cater to your every want and need. Contact us today.