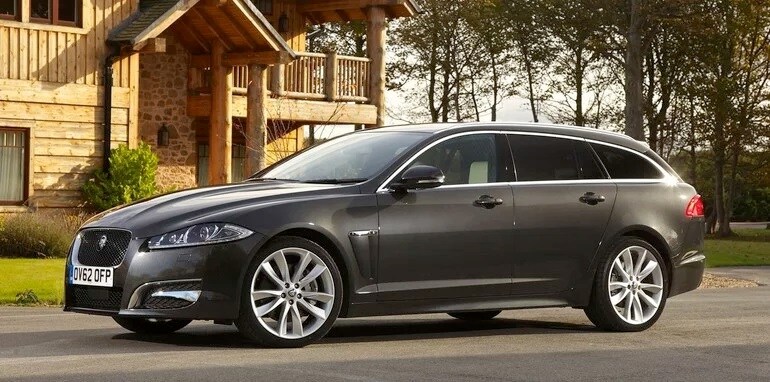 The wagon is back - and it's back with style. Meet the 2018 XF Sportbrake, a wagon taking major design cues from the best-selling 2018 XF Sedan. Already making its way around Europe, the luxury wagon is due to cross the pond into the United States this year. The U.S. demand for wagons is constantly rising and we can't wait for it to hit our market.
You may take the front of the XF Sportbrake as the XF Sedan, but when you see the back, you'll know it's a whole new ball game. The elongated, flatter roofline adds a sleek finish and comes with the option of a stunning, panoramic glass roof. The traditional six-window side glass layout and wide tailgate stay the same, but you'll see another noticeable change in the back windscreen - it now sits much more upright, creating a totally different backside shape than on the XF Sedan.
The brand's design director, Ian Callum, talks about the design as a "silhouette that sweeps towards the back of the car, almost into the distance, and gives the car a sense of speed and sportiness".
Possibly the largest difference is the sheer size. The trunk is more than 600 liters larger than the sedan and clocking in at 1,500 liters capacity when the rear seats are folded down. The cabin space itself is also much larger and will be able to fit back-seat passengers more comfortably.
"It will bring new levels of practicality to the range without sacrificing the dynamic design and agile handling our customer expect," said Callum.
Under the hood, the engine options will mostly mirror the XF Sedan lineup. A new type of petrol Ingenium engine will be introduced, available in three different horsepower ranging from 160-375. The transmission options for the XF Sportbrake include a 6-speed manual and a Quickshift eight-speed gearbox that will accompany the existing four- and six-cylinder mills. Both rear-wheel-drive (RWD) and all-wheel-drive (AWD) will be available.
By mid summer, we'll know the ins and outs of this exciting new model - but for now, we've told you all we know. Visit jaguar.com to sign up for exclusive email updates on the 2018 XF Sportbrake.