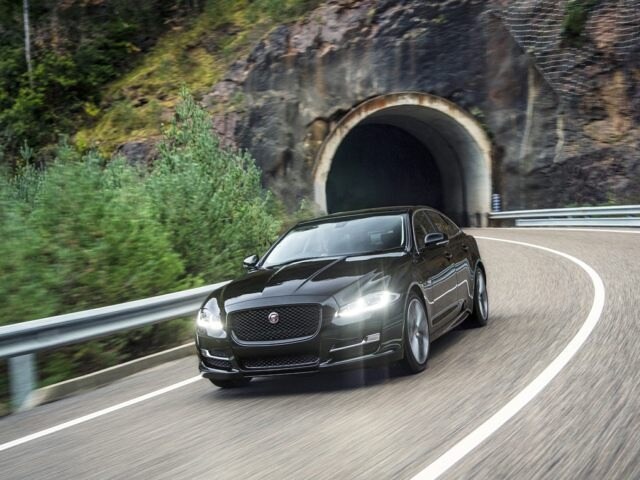 The center of the Jaguar lineup is back with a 2018 model, and it's just as luxurious as years past. The full-size sedan has always stood out in its class due to the noticeable sporty vibe. Its lightweight aluminum construction is a big contributor to that popularity. If you want to see the 2018 Jaguar XJ in its full glory, stop by Jaguar Chicago. Our beautiful showroom allows you to see the vehicle for yourself - because the XJ looks great in photos, but even better in person.
Beyond the interior styling, the interior technologies of the XJ are sure to impress, as well. Incontrol Remote is a crowd favorite that lets XJ owners check fuel levels through their smartphone, as well as start the engine and lock or unlock the vehicle. We know what you're thinking - and yes, this is definitely going to come in handy.
The model options are similar to previous years, minus the new XJR575. It replaces the XJR, and houses a 5.0-liter V-8 engine with 550-575 hp. It goes from 0-60 mph in 4.2 seconds, accelerating down back roads and carving through wind with ease.
A great option to choose is extra length in the long-wheelbase models. The option adds another 5 inches of rear legroom, making the back seat an absolute luxury to ride in. You can also add to the rear seat experience by choosing twin 10.2-inch entertainment screens, and paring down to two larger chairs that include heating, cooling and massage. The package also includes convenient USB and HDMI inputs sure to please anyone lucky enough to catch a ride.
New features in the 2018 XJ include 4G Wi-Fi capability, a two-inch larger touchscreen console, and multiple new safety features and technologies:
Forward-Collision Warning
A forward-facing camera detects if you're closing in on a vehicle and gives you an audible warning.
Autonomous Emergency Braking
Working with Forward-Collision Warning, Autonomous Emergency Braking protects you from a potential collision.
Lane-Departure Warnings
If you start to drift into another lane, the XJ will alert you, while safely steering you back into your original lane 
Driver Condition Monitor
This feature can detect when the driver is getting drowsy and give a suggestion to take a break.
All-Surface Progress Control
The low-speed cruise control helps navigate tough road conditions with ease so you can focus on steering.
You can count on Jaguar Chicago to carry the best selection of XJs in the Chicagoland area - and offer the best accommodations if we don't have exactly what you're looking for. Get in touch with a sales rep by calling 877-439-6535. We're looking forward to assisting you in finding the vehicle of your dreams.