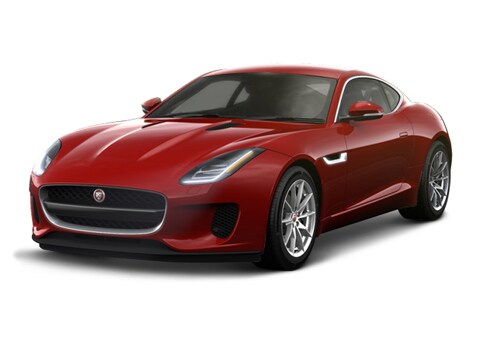 The 2019 Jaguar F-TYPE is the absolute definition of a sports car - beautiful to look at, exciting to experience, and a thrill to drive. Contact Jaguar Chicago, located in downtown Chicago, to experience it from behind the wheel. Browse our current 2019 F-TYPE coupe inventory. 
Take one look at the exterior of the 2019 F-TYPE and you're bound to be weak in the knees. The gorgeous lines seem to wind and curve around the long hood with the utmost ease, making their way around the vehicle's unmistakable shape to its scant backend. The design is not only beautiful, but also extremely aerodynamic-friendly. That means reduced levels of lift and greater control at high speeds.
The newest F-TYPE has multiple engine options, with the turbocharged 2.0-liter 4-cylinder coming standard on the base model. With 296 horsepower, the Ingenium-line engine delivers impactful and punchy performance accompanied by a polished overtone. If you're looking for a little more power, you're covered with the optional V6 Power and V8 Performance engine lines.
The V6 engines are compact with boost control and secondary throttle valve, which provide a burst of power upon accelerating. Choose from the 340-hp 3.0-liter or the higher output 380-hp that boasts a 0-60 mph time of 4.8 seconds.
The two available V8 engines accelerate rapidly, with a 0-60 mph speed as low as 3.9 seconds, and have incredible throttle response. Options include the 550-hp 5.0-liter and the stepped up 575-hp version that produces 516 lb-ft torque.
The options continue as you experience the interior of the 2019 F-TYPE. It begins with an unmistakable British design, but is fully customizable to your preferences including textures, colors, and seat configuration. Speaking of seats, these go above and beyond. Their light aluminum construction reduces overall weight for better handling, while their compact form frees up space in other areas of the vehicle. These performance-focused seats provide lateral support, as well, keeping you comfortable when winding roads or sharp turns come your way.
Don't miss out on the Jaguar's technological features, either. InControl Remote is one way your Jaguar helps you stay connected. It gives you the option to monitor and control your F-TYPE through your smartphone - whether that means remotely locking or unlocking your vehicle, or remotely starting it, convenience and comfort are the name of the game. The 2019 F-TYPE also has an abundance of safety and driver assistance features to keep you protected on the road.
Does the new 2019 Jaguar F-TYPE have you intrigued? Us too. Give Jaguar Chicago a call at (888) 650-5126 to schedule a test drive right here in Chicago, or to simply ask a few questions. Our team is happy to assist you in any way possible.