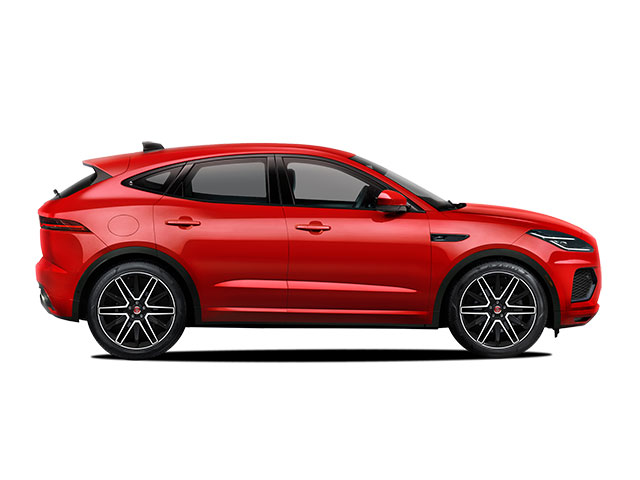 Experience the conveniences of a small SUV paired with the luxuries of a Jaguar in the 2021 E-PACE. It's refreshed for the new year thanks to new technology, an updated exterior, and thoughtfully crafted interior styling. Visit Jaguar Chicago to see if the E-PACE fits your wants and needs. 
Technology
Inside the cab, the new Pivi Pro-driven infotainment system with an 11.4-inch curved touchscreen is the center of attention. Improved graphics and usability and added features make the touchscreen your central control for navigation, audio, and more. The touchscreen dashboard is completely customizable to display the controls you use most. It's also available in a 12.3-inch version for those wanting the maximum amount of screen real estate.
Along with the new Pivi Pro system, there are twin LTE modems - one for streaming content and the other for downloading over-the-air updates. They work simultaneously, allowing you the ultimate convenience of using both at the same time. 
Of course, you can't mention technology without mentioning the driver-assist features. The list of features standard in all E-PACE models includes a 360-degree camera, Lane Keep Assist, Automatic Emergency Braking, and Front and Rear Parking Sensors. If you want to take it a step further, even more features are available as add-ons. Rear Cross-Traffic Alert, Blind-Spot Monitoring, and Adaptive Cruise Control are options within certain packages. 
Exterior
On the outside of the vehicle, a number of features have been updated and improved for the 2021 E-PACE. That includes new LED headlights with double j-blade daytime running lights, a reshaped front bumper, and a chic new grille pattern.
Interior 
Right away, you are greeted with a more refined design throughout the cab. The luxurious feel is reflected in the updated trim, steering wheel, HVAC control, and shifter. The six-speaker sound system can be upgraded to a Meridian system with either 11 or 15 speakers, elevating the driving experience further.
Engine 
The 2021 E-PACE engine is available in either 246 horsepower or 296 horsepower, both coming standard with nine-speed automatic transmission and all-wheel drive. The P250 and P250 SE models both use the 246-horsepower version, while the Sport 300 is upgraded with the more sophisticated, 296-horsepower engine. 
The engine, in combination with the chassis, reduces outside noise, creates a comfortable ride, and produces a better throttle response. The steering is light, yet precise, making for an exhilarating driving experience. 
With a 5-year, 60,000-mile warranty, you'll have no regrets with the  Jaguar E-PACE. It's the perfect vehicle for when you want the conveniences of an SUV, without the bulky stature. You're bound to love it. If you're interested in giving it a test drive, call Jaguar Chicago at 877-439-6535 or contact us online. We'll help get you scheduled and gladly answer any other questions you may have.